Coconut oil is one of the popular"super foods" in recent years with multi-functions.In the consumption of coconut oil, about a third of people eat coconut oil or cook with it, a third of people use the coconut oil to protect the hair care, the remaining one-third of the people use it to protect skin.

With a background of a decade in the fitness industry, NutriRight Pte. Ltd. is a Singapore-based nutrition company, we manufacture and distribute healthy and nutritional products, locally as well as globally. Our aim is to introduce and promote healthy food products at affordable prices, allowing people from all walks of life to have a choice for better and healthier living.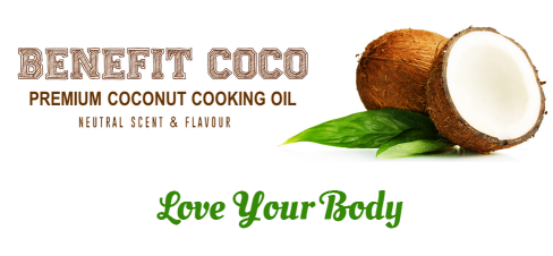 Benefit Coco Premium Coconut Cooking Oil is a physically refined coconut oil without solvents, is not hydrogenated, and is not chemically refined. With a neutral scent and flavour, it is suitable for all types of cooking.
"Benefit Coco Premium Coconut Cooking Oil is a physically refined Coconut Oil with strict quality specifications. With the same carbon chain distribution maintained for Benefit Coco Premium Coconut Cooking Oil and Virgin Coconut Oil, the health benefits are the same for both grades. Since Benefit Coco Premium Coconut Cooking Oil does not have the coconut taste and odor, it can be used for all types of cooking applications to accentuate the unique taste, odor and flavour of the dish. Benefit Coco Premium Coconut Cooking Oil is Trans Fat Free (in compliant with FDA's requirement). With other polyunsaturated vegetable oils, the high temperatures during the deodorization process and cooking, increases free radicals and the amount of Trans Fat which are bad for cardiovascular health." - Marco Reyes, Chemical Engineer, Founding Member of Virgin Coconut Oil Manufacturers and Traders Phils, Inc. (VCOP) in 2005, Board Member and Chairperson of Technical Committee of VCOP 2016 (Appointed Product R&D Consultant for Benefit Coco Premium Coconut Cooking Oil)
"Blending different types of your cooking oil is beneficial for our body to obtain a balance nutrient intake. Benefit Coco Premium Coconut Cooking Oil, as with other virgin coconut oils, is high in medium chain fatty acids (MCFAs) and studies show that MCFAs increase in energy expenditure results in less body weight gain and decreased size of fat depots after several months of consumption. If consumers choose to consume coconut oil, moderation is the key. Keep the focus on balanced nutrition intake of healthy fat sources such as coconuts, avocadoes, along with vegetables, fruits, whole grains, and lean proteins." - Jasmine Kok, Consultant Dietitian (JM Nutrition Consultancy)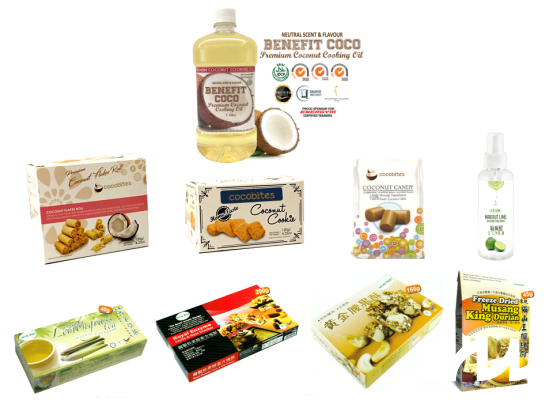 Beginning with our pioneer coconut oil product, we have expanded to develop a series of healthy and delicious coconut snacks, and as well as fruits and nuts bites, to offer a healthier and nutritious choice of snacks. Recently we have also broadened our range of products in order to promote a healthier choice and lifestyle.
NutriRight Pte.Ltd will attend 2017 The 21st China International Nutrition & Health Industry Expoon April 17th-19th,2017at CIEC Beijing.Booth No.is Hall 1B--Booth No.T13B.Welcome to vist expo.